ONLINE NOW!
Teacher-Training-Tool
The Teacher-Training-Tool (TTT) trains teachers in the use of teacher-training-arrangements in personal and social competencies.
Teaching self and social competencies in vocational education and training has great relevance to achieve employability in all European countries. This especially concerns the customer-intensive retail sector. The digital training is now available online and costless as "Open Educational Resource" (OER).
Click here to go directly to the TTT
http://www.recall-ttt.uni-koeln.de/en
Safe the date: 22/09/17
National multiplier event in Cologne (Germany)
We invite you to our multiplier event on 22/09/17 in Cologne.
If you are interested, please register by e-mail: christian.hofmeister
uni-koeln.de
(The language of the event is German).
Evaluation of the Teacher-Training-Tool
In the months of April, May and June 2017 the Teacher-Training-Tool will be tested and evaluated by teachers in Germany, Italy and Poland.
Transnational project meeting in Bergamo
In the period from 10/24/16 to 10/26/16 our second transnational project meeting has taken place with all project partners in Bergamo (Italy). At the meeting, the TTT and the training areas were discussed in detail.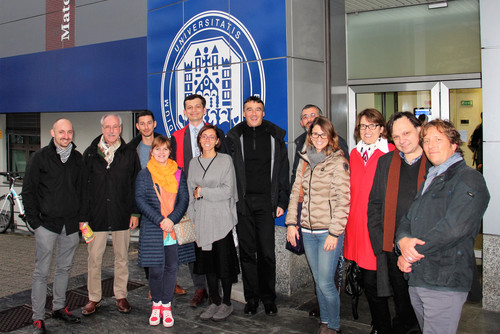 Phase of development
Currently, the areas of the TTT are developed and edited by all project partners. In late July, the drafts of the TTT were presented social partners in Germany, Poland and Italy. The feedback from the social partners are considered in the further conception.
Transnational project meeting in Cracow
In the period from 11/30/15 to 12/02/15, the first transnational project meeting in Krakow took place. Represented were all partners from Germany, Italy and Poland.

Further information will follow soon.